Maine State Inspections and Emissions Smog Check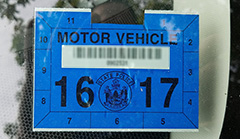 The Maine State Motor Vehicle Inspection Program has been in existence for almost 70 years and requires all vehicles registered in the State of Maine to undergo an annual safety inspection. Additionally, vehicles registered in Cumberland County must also pass an emissions testing also known as a smog check in addition to the Maine State Safety Inspection.
The goals of the inspection programs are to ensure the health and safety of the motoring public by keeping person's informed of their vehicle's condition and to help identify any needed safety-related repairs or services that should be performed, while also improving emissions which leads to decreased smog and air pollution.
When doing a State Inspection, your licensed Maine Auto Service technician will follow the guidelines and policies of the Maine State Police, which includes testing the brakes, exhaust system, lights and turn signals, horn, tires, seat belts and more. He'll complete his inspection, put the results in writing, and then bring you out to your car to discuss his findings.  We encourage you to ask any questions about your vehicle needs at this time.
You can schedule your annual Maine State Safety Inspection at Maine Auto Service right now on-line, or by calling one of our six shops directly.  We can also usually accommodate you on a drive-in basis.  The inspection takes about 20-30 minutes and we'll do our best to get you back on the road quickly and safely. Check your windshield today to see when your inspection is due and contact us at Maine Auto Service to schedule your appointment and get your car inspected today. To learn more about Maine's Inspection Requirements "click here".
Schedule an appointment
P: (207) 430-4000
P: (207) 844-2166
P: (207) 333-6000
P: (207) 221-8999
P: (207) 490-4000
P: (207) 289-3000