Courtesy Check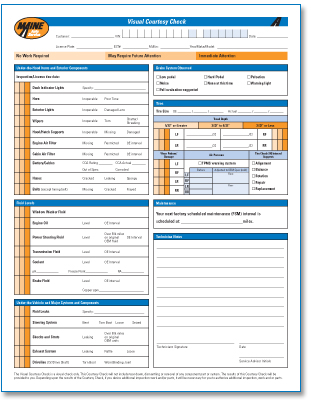 At Maine Auto Service, we care about you and your vehicle, and want to help you avoid any unexpected problems.  That's why you'll receive a free, complimentary check of your vehicle's major systems, every time you visit us.
Our technicians will measure the tread depth of your tires, look for any unusual wear patterns that may indicate a problem, and check the air pressure for proper inflation.
We'll do a visual check of your car's brake system, steering and suspension components, and the exhaust.
We'll also check all your fluids, belts, hoses, and your engine and cabin air filter.  And, as part of this free service, we'll do an electrical system check to make sure your car's battery is performing properly.
Finally, we'll check your lights and wiper blades to be certain you can get back on the road safely.
When we're finished, your technician will bring you out to your car to review the results of the courtesy check, answer any questions you may have, and give you a copy of the results.
At Maine Auto Service, we want automotive care and maintenance to be easy and hassle-free.
Schedule an appointment
P: (207) 430-4000
P: (207) 844-2166
P: (207) 333-6000
P: (207) 221-8999
P: (207) 490-4000
P: (207) 289-3000